You will find books for your topic via personal recommendations, in reference sources, by browsing in the library and its catalogs, and in the footnotes and bibliographies of articles and other books on your topic.
Northwestern University's Art Library collects materials on art, architecture, design, photography, and related visual arts. The collection is especially strong on 19th- and 20th-century Western art, and it contains many rare periodicals on the history of architecture.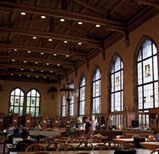 Some materials are housed in the Art Library's Martin Reading Room and its Architecture Reading Room on the third floor of Deering Library
Other books are housed in the Library's offsite high-density storage facility, Oak Grove
Rare and valuable architecture books, manuscripts, archival materials, and other primary sources are housed in the special collections library
Books on architecture in Africa are housed in the Herskovits Library of African Studies
All titles are cataloged in WorldCat and Northwestern's NUsearch library catalog search tool.
You can use NUsearch and WorldCat to find books you already know about (those cited in bibliographies and footnotes from reference sources and articles you've found on your topic), or you can browse them to find new, unknown books that may be useful for topic.
NUsearch catalogs materials found at or available through Northwestern University Libraries;
WorldCat catalogs materials found at libraries all over the world.