Paper: Heavyweight coated paper only (maximum width: 42", including minimum 0.4" margins - thus max. image width is 41.6" which should be printed as 42" print width.)
Examples:
24" x 18" poster = $4.50 ($1.50 x 3 sq. ft.) = $4.50
42" x 24" poster = $10.50 ($1.50 x 7 sq. ft.) = $10.50
If you need help with our NUPrint system or have questions about paying for printing, please visit the NUPrint Guide:
The plotter is a self-service printer located in the Information Commons.

To set up your document for printing, select the program you are using from the tabs above. If your program is not available, please see the Information Commons desk for further assistance.

For help with ink and paper replacement or technical difficulties, please see the Information Commons desk, which is staffed at all times the library is open.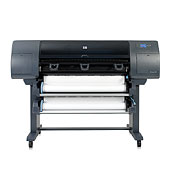 For large-sized prints, maps, posters, signs, banners and reproductions.
Printer name: find this printer from the printer options on library public PCs:
EV-print\\PLOTTER
Product name: HP Designjet 4500ps Printer (also see this product data sheet in PDF)
Standard memory : 256 MB
Maximum memory : 512 MB
Hard disk capacity : Standard, 40 GB
Print quality black (best) : Up to 2400 x 1200 dpi
Print quality colour (best) : Up to 2400 x 1200 optimized dpi and 1200 x 1200 input dpi
Print technology : HP Thermal Inkjet
Colour(s) of print cartridges : Black, cyan, magenta, yellow
Compatible ink types : Black: pigmented, CMY: dye-based
Guaranteed minimum line width : 0.075 mm
Line accuracy : +/- 0.1%
Standard connectivity : Fast Ethernet (10/100 Mbps), FireWire (IEEE-1394a compliant), EIO slot
Standard printer languages : Adobe® PostScript® Level 3, Adobe PDF 1.5, HP-GL/2, HP-RTL,TIF, JPEG, CALS G4
Finished output handling : Two rolls, automatic roll-switching, automatic cutter, optional stacker, optional automatic inline folding device
Want to print a poster? Come try our Plotter! This plotter is located in the Information Commons, just down the steps from the main entrance. - see map (below)
Other Large Format Printers
Other areas on campus offer large format printing.
Note: The information in this guide is only for the Plotter in the Northwestern University Library Information Commons. Pricing and procedures will vary for large format printing at other locations.
Evanston Campus: Biological Imaging Facility
Chicago Campus: SMPP@RIC, or FedEx@Searle Building.
Need help to create posters? Check out this Guide.