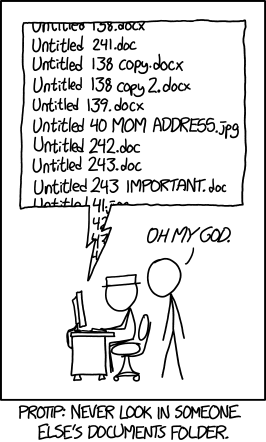 Before you start gathering your data, come up with a plan for organizing it. This will enable you to work more efficiently and avoid data loss. Your plan should include a directory structure and a filenaming convention.
A few tips:
keep your file names short but meaningful, based on key pieces of metadata
don't use spaces (use underscores instead)
don't use special characters
dates should be in YYYY-MM-DD format
document your organizational plan in a .txt file in the top level directory
avoid having multiple folders with the same name
For qualitative data, I typically use some combination of case/site name, type of material, and date for the filenames. So, for example, if I were doing a project using tiktok videos I would use the creator's username and the type of material (e.g., video, transcript, comments). I would also include the video's date if I was using multiple videos from the same creator. The formula would be something like this: username_YYYY-MM-DD_type
For more information, see this guide to file organization from the Utah State University Libraries.